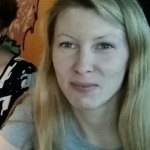 FDC's sent:
1
FDC's received:
0
FDC's in progress:
0
Stars received:
5.00
Country:
Russia
Languages:
Russian, English
Member since:
01 September 2019
Last activity:
06 September 2019
My name is Olga and I'm from Saint-Petersburg.
I like green tea, green apples, cinema (especially old 30-50 years), theatre, art (especially surrealism), music, sports (especially step, aerobics, running, basketball), dancing, horses.
And I can't imagine my life without books!