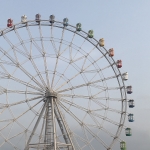 FDC's sent:
14
FDC's received:
15
FDC's in progress:
2
Stars received:
4.93
Country:
Hong Kong
Languages:
English, Chinese
Member since:
04 March 2018
Last activity:
15 October 2018
Hello, greeting from Hong Kong.
My name is Maggie, Fist-Day-Covers & Postcrossing fans.
My instagram @bobopaupau

My requests:
*Looking for reliable memebers, don't send envelope without stamps and stamp chops.
*I prefer full set (4-6 stamps) of stamps on the FDC.
*But souvenir sheet (large piece with one stamp) is accepted.
*Appreciate new issued (2016'-2018') and cute stamps.
*Please send me FDC in envelope.

Thank you & Happy FDC !!!