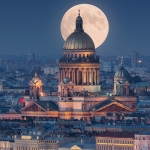 FDC's sent:
32
FDC's received:
32
FDC's in progress:
2
Stars received:
5.00
Country:
Russia
Languages:
English, German, Russian
Member since:
17 February 2020
Last activity:
12 May 2022
Hi, everyone!

My name is Zoya and I live in St. Petersburg, one of the most beautiful cities in Russia. I've always loved writing and receiving postcards and letters. Some time ago, through postcrossing, I found out the FDCs. Now I collect them too.
So I'm happy to join this website and would be glad to receive any FDCs, especially connected with history and national traditions.


Every FDS is always an surprise for me. So just surprise me!

Thank you!