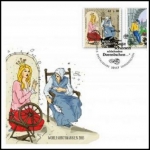 FDC's sent:
10
FDC's received:
13
FDC's in progress:
0
Stars received:
5.00
Country:
Germany
Languages:
German, English
Member since:
13 September 2019
Last activity:
30 December 2019
Hello, I would be very happy about FDC on animals. Preferably: new issues directly to my address .... or and all other blank in an envelope. Likewise older issues worldwide suitable for animals.

I will gladly try to consider your wishes.
I have some official FDC of the last years .... or if it fits to your topic, I send current issues of the Deutsche Post with the First Day Cancellation Bonn or Berlin on a simple envelope without additional printing.